If you walk into a beautifully remodeled, newly painted home, chances are you won't think, "Wow, what a great prep job!" Prepping the walls is definitely not the most glamorous aspect of remodeling. But without the proper prep, the finished results won't look nearly as spectacular. Take more time than you think you'll need to prepare your walls before painting, and make sure you have the right rental equipment and tools on hand before getting started.
Protect the floor and furniture.
If you're working in a small room, you might want to move all of the furniture out so you won't trip over it. Otherwise, move all furniture to the center of the room, and cover it with plastic tarps. Cover the floor with canvas drop cloths. Protect the trim with painter's tape, unless you'll also be painting the trim.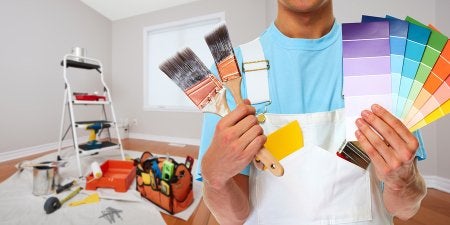 Protect the hardware and light fixtures.
Remove the cover plates from the electrical outlets and light switches. Put the screws in a sealable bag so you don't lose any of them. Cover the switches with painter's tape. Next, use small plastic bags and painter's tape to protect the doorknobs. Even if you aren't painting the doors, droplets of paint may splatter on the hardware.
Scrape old paint and patch holes.
Check each wall carefully for flaking paint, and scrape it off with a putty knife. You don't need to remove all of the existing paint—just the loose flakes. Then, use your putty knife to apply spackling paste to any holes in the wall. Smooth it with the putty knife and let it dry. Then, sand the repaired areas until they are perfectly smooth. Use a clean rag to wipe dust off the wall.
Apply primer to repaired areas.
Unless you're painting directly on sheetrock, you won't need to apply primer to the entire wall. Do apply primer to any areas you've repaired with spackling paste, however. Follow the directions on the product, and allow it to dry. Now, you're ready to start painting!
Planning a major painting project this summer? Stop by A Tool Shed for the rental equipment you need at affordable prices. You can reach a friendly staff member at (800) 286-6574 if you have any questions about our available equipment rentals in San Jose.