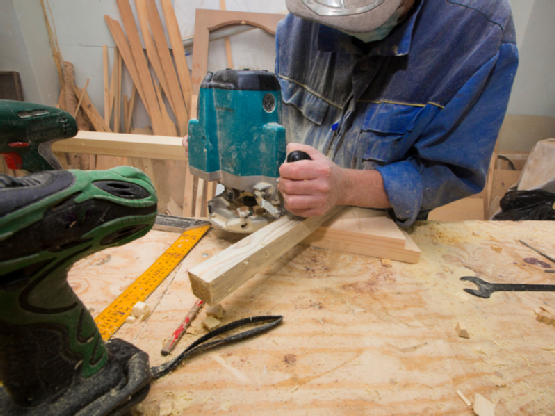 Like all power tools, a router is a very useful piece of equipment that can also be very dangerous if the proper precautions are not followed. First time users may find the sensations a little overwhelming, but there are several safety tips that you can follow to ensure that you use your router successfully.
Routers can get very loud, so it is important to use proper ear protection. They can also cause woodchips to be tossed into the air, so you should also use goggles to protect your eyes. Remember that the bit will be hot after use, so refrain from touching it until it has completely stopped and has had time to cool off. Perhaps most importantly, make sure your router is powered off before plugging it in. A router is a powerful machine that requires your full attention, and you should have a good grip on the tool as you turn it on.
A Tool Shed has been specializing in both the sale and rental of new and used equipment for over 65 years. To learn more safety tips for using a router, call us at (831) 359-4769 or visit our website. If you live in northern California, stop by one of our six locations today.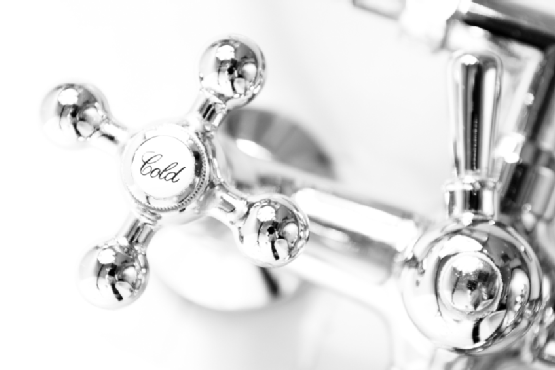 Frozen pipes can burst and cause expensive damage. Fortunately, there are several ways you can prevent your pipes from freezing during the winter with only a few pieces of equipment . Follow these tips to make sure your pipes stay in good working condition all year long.
Protect Them from Cold
The simplest way to prevent your pipes from freezing is to protect them from exposure to low temperatures . It helps if pipes are not installed in attics, crawl spaces, or other spaces that do not receive heat. For pipes that have already been installed in these areas, you can protect them with insulation. If you notice any cracks in the walls near pipes, these cracks should be filled in and sealed immediately to prevent heat from being transferred from the pipes.
Improve Circulation
If any of your pipes are located inside cabinets, as is common in kitchens and bathrooms, the cabinet doors should be left open. These doors prevent the warm air inside your house from reaching the pipes, which can contribute to freezing. In addition to leaving the doors open, you can line the pipes with electric heating equipment. Some of these tools even have thermostats so the device can monitor its own heat.
Run the Water
Pipes burst in the winter because of the pressure created when water freezes inside them. You can reduce this pressure by opening faucets and letting your water run. It is a good idea to keep the water running at a slow trickle, as this keeps the waste to a minimum. Also note that both your hot and water lines should be open, since neither is immune to freezing.
If you would like to learn more about how to prevent frozen pipes during the winter, call A Tool Shed at (831) 359-4769. We are happy to meet northern California's needs when it comes to the sale and rental of new and used equipment. Visit our website or stop by one of our six locations today.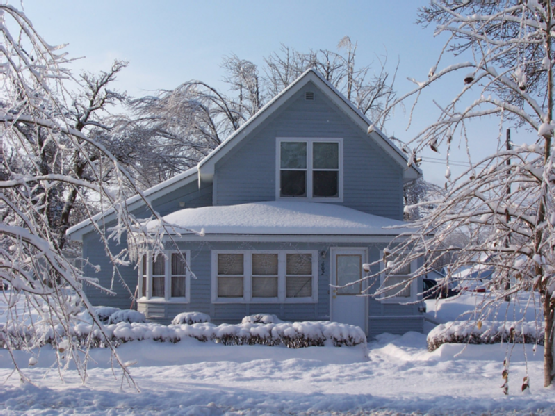 As a homeowner, it is your responsibility to make sure your roof stays in good working condition. Even if you don't have the proper tools to complete all of the necessary roof-related tasks on your own, it is still important to know what it takes to maintain your roof. Maintenance should be performed both inside and outside, and while it is okay to make smaller repairs yourself using rented equipment, you should always call a professional for permanent projects.
Inside Maintenance
Throughout the winter, you should be regularly checking your vents and making sure that air can easily flow through them. If your vents remain clogged, the heat and moisture that should be flowing through them will instead build up and damage your roof and attic. To prevent icicles from forming, you may have extra vents installed and add insulation to your attic. If you notice any discolored paint or moisture spots on your ceiling, your roof may be leaking .
Outside Maintenance
There are several things you can do to take proper care of your roof from the outside. You should regularly inspect your roof and gutters for leaves, debris, and other vegetation. Spray both the roof and gutters with a hose, being sure to address any gutter clogs. If your flashing is punctured or bent in any area, use roofing cement to firmly attach it to the siding. You can also use roofing cement to securely attach shingles to your roof.
Personal Repairs
There are some smaller repairs that you can make on your own, but a professional should be contacted for a permanent fix. If there's a damaged shingle on your roof, you can prevent moisture from seeping through by placing a piece of metal flashing under the shingle. When addressing leaks in your attic, hang a string below the leak and position a bucket under it so you can catch the water.
Do you want to know more about the essentials of winter roof maintenance? Call A Tool Shed at (831) 359-4769 or visit one of our six convenient locations. We provide northern California homeowners and contractors with all the tools they need to do the job right. Visit our website or stop by to learn more.
During the winter months, you must take preventative measures to ensure that your hot water continues to flow throughout the season. This video explains a few different tips that will keep your pipes working.
Keep the cabinet doors beneath your sinks open to allow heat to move more freely around your pipes. For pipes located in garages or crawlspaces, it helps to wrap them in insulation or hang a utility lamp near them. A 100-watt bulb should heat the pipes enough to keep them warm during the winter.
For more winter plumbing tips, call A Tool Shed at (831) 359-4769 or visit our website. Since 1945, we have provided northern Californians with sales and rentals of new and used equipment. Stop by one of our six convenient locations to learn more about us today.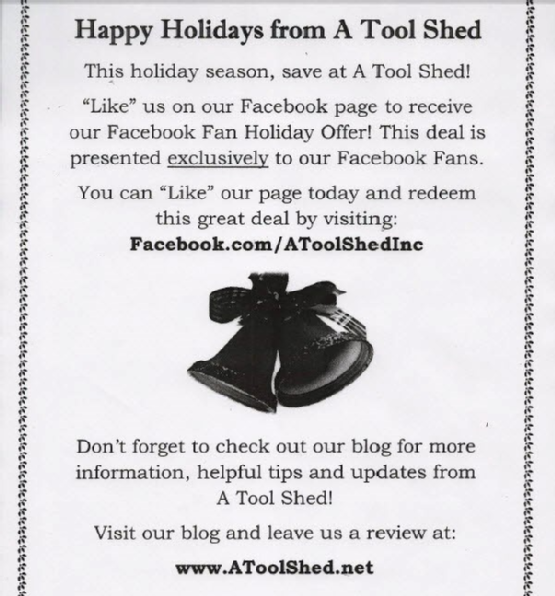 Like us on Facebook receive our Facebook Fan Holiday Offer!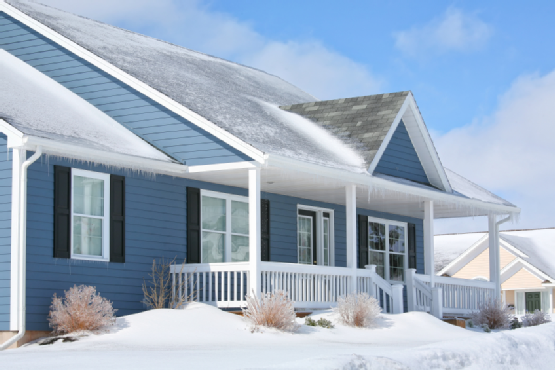 During the winter, roofs can leak, heaters can break, and numerous other problems can occur around the house. To avoid these issues, it's essential to know how to properly winterize your home. For some helpful home winterization tips, read through the brief guide below or contact your nearby equipment rental company in San Jose:
Change Furnace Filter
Your furnace has the important job of providing warmth to your home when the weather is cold. To stay comfortable, you have to make sure that you keep your furnace running properly by changing out the filter often. All you have to do is locate the filter compartment in your HVAC system, take the old filter out, and put the new one in. For the best results, it's recommended that you replace the filter at least once a month during the winter.
Protect Outside Pipes
In colder weather, pipes and faucets located on the outside of the house can freeze and burst, causing property damage. Though this issue is rare in the San Jose area, you can bring the risk down to zero by insulating your exterior pipes . To do this, simply clean off any grime from pipes and wrap them with fiberglass insulation or a thick towel. If the temperature is expected to drop significantly, turn on outside faucets slightly to prevent freezing.
Insulate the Attic
Attics are often poorly insulated, allowing cold air to come into the house and heated air to escape during the winter months. To prevent this from happening in your home, install more insulation in the attic. Ask a home insulation expert to evaluate your existing insulation and help you install more.  
Whether you are installing insulation or wrapping your house's pipes, A Tool Shed of San Jose has all the equipment you need. To browse our large inventory of rental tools, stop by one of our six locations or visit our website. If you are looking for a specific tool and want to know if we have it in stock, call us today at (831) 359-4769.