A Tool Shed was happy to provide light rentals to support this year's Bike Night at the Museum of Art and History. Thank you for letting us be part of your event!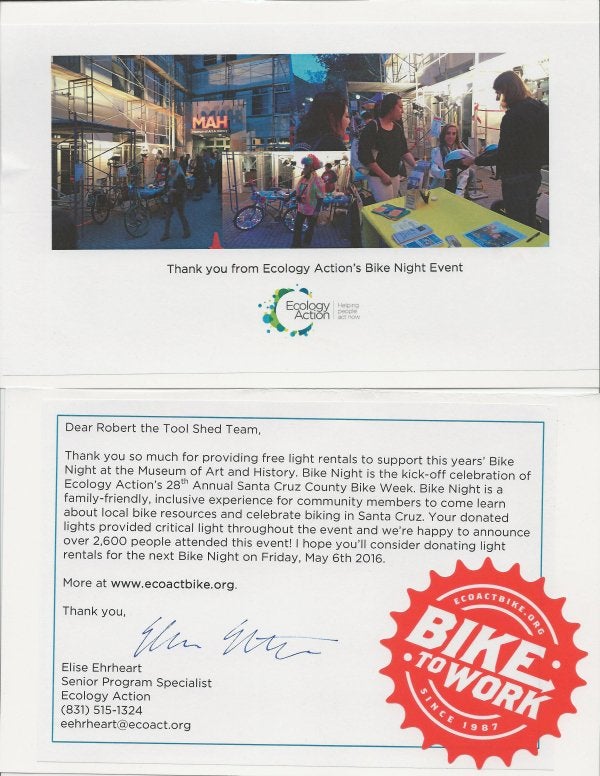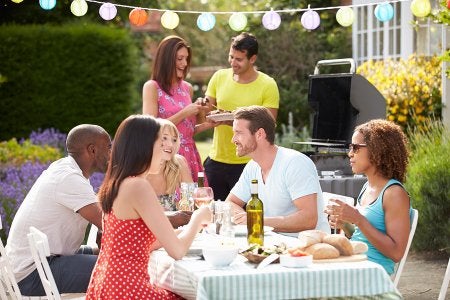 On temperate California evenings, a barbeque is a host's finest tool. If you don't barbeque often, you may consider rental equipment in San Jose for your next grilling occasion.
Your first choice is between fuel sources. Coal, gas, and electricity are your options. Customizability is the benefit of coal; different types of briquettes and lump charcoals offer distinct flavors, but they require some time to heat thoroughly before you can start grilling. Electric burners are cleaner and safe for indoors, but many find a lack of fire undesirable in a social barbeque setting. Using gas gives you complete control of the flame, which you can turn on or off at any time.
Consider your space. Large, smoke-billowing charcoal barbeques can be ideal in large yards, but small gas grills are less obtrusive in tightly packed communities. Many apartments ban all non-electric grills. Also think about features. Built-in thermometers, weatherproofed exteriors, protective covers, cooking racks, rotisserie attachments, and smoke boxes—which grillers fill with wood chips for smoky flavor infusions—are only a few of the myriad options available.
If you are interested in renting or buying new or used equipment for your next barbeque , visit one of A Tool Shed's seven California locations, or call us at 1(877) 890-2963.
A Tool Shed was happy to help K to College by donating hand trucks and pallet jacks for their Silicon Valley Assembly. Learn more about K to College here .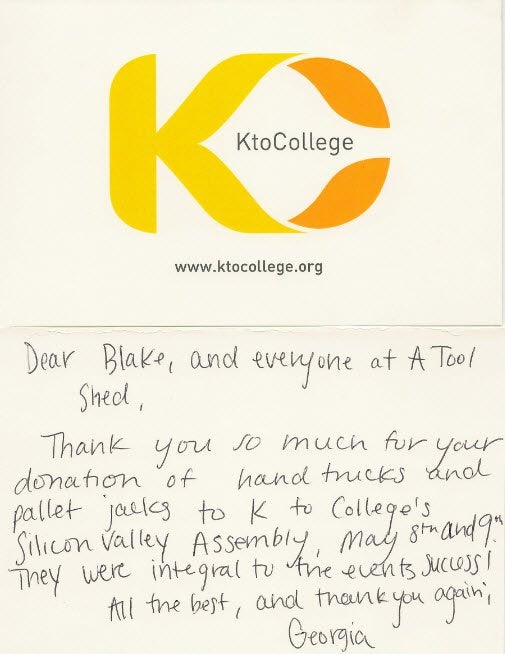 Few landscaping tools are as useful as the lawnmower. A good lawnmower can instantly refresh your yard, giving your home a well-manicured look. However, not all types of lawnmowers are right for all types of lawns. If you're shopping for a new or used lawnmower in San Jose, consider these tips before visiting your local tool and equipment supplier to make sure you get the right lawnmower for your needs.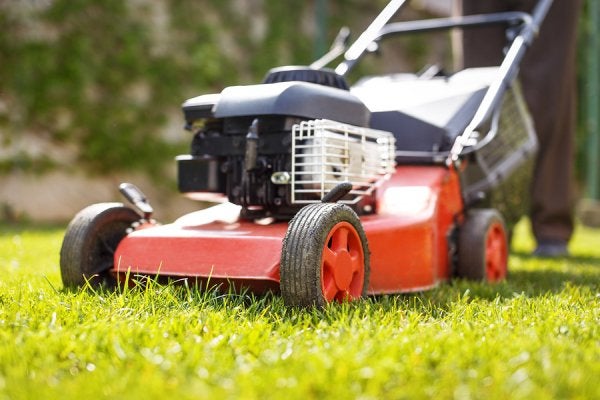 Consider Property Size
The size of your yard is one of the most important determining factors when it comes to selecting a lawnmower to rent or buy. If you have a very large yard, a riding mower can help you complete the task more quickly and more comfortably than a traditional push mower. Walk-behind push mowers are ideal for smaller yards where riding lawnmowers can't fit or easily maneuver. Your equipment rental specialist can help you select the best option based on the dimensions of the space you are mowing.
Consider Lawn Topography
The topography of your lawn is also an important factor. For example, if your lawn is very hilly and can accommodate a riding lawnmower, this type of mower is preferred to walking up and down steep hills with a push mower. You will also need to consider the landscaping and hardscaping around your lawn, as a push mower allows you to mow beneath low-hanging trees and around small features such as bird baths and flower beds.
Ask for Help
The tool and equipment experts at A Tool Shed Equipment Rentals in San Jose can help you select the right lawnmower for your specific needs. In addition to our lawnmower rentals , we also have a large selection of new and used lawnmowers for sale. Visit our website to learn more about our equipment rentals and sales or call us at (877) 890-2963.
Check out this business profile about A Tool Shed in the Aptos Times on page 15!
Are there household projects you've been meaning to do, but you think you just don't have the time or the right tools? Now is the time to get started with the help of tools for rent in San Jose. Whether you want to build a privacy fence, put a patio in your backyard, or rip up that old tile floor, you can rent the equipment you need to get the job done. If you consider yourself to be fairly handy, figure out which one of these projects you want to tackle first. You can also look for used tools so you won't have to wait in the future to take on home improvement projects. Check out this infographic from A Tool Shed Equipment Rentals to see a few projects you can get started on with the help of the right equipment—and maybe an assistant or two. Please share with your friends and family!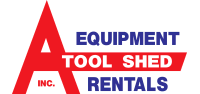 A Tool Shed Equipment Rentals has been San Jose's trusted tool and equipment rental provider since 1945. We are driven by the same values today that helped us get off the ground and become the Bay Area's equipment rental solution 70 years ago. Between our large rental inventory and wide selection of rental tools, not to mention our fast delivery services and affordable prices, it's no wonder we've been San Jose's equipment rental specialists for seven decades.
From small hand tools and gardening equipment to trailers, excavators, and earthmoving equipment, you can find all the tools and equipment you're looking for at A Tool Shed Equipment Rentals. We have six convenient locations to serve you, and our courteous and knowledgeable equipment rental specialists can help you find exactly what you need. Call us toll-free at (877) 890-2963 to get started.
The days are getting longer, the nights are getting shorter, and the steady hum of lawnmowers once again fills the air: It's springtime in San Jose. A healthy summer lawn starts with spring maintenance, so now is the time to visit your local lawn and garden equipment rental store and stock up on everything you need to whip your lawn into shape. Here are some lawn care tips that will ensure a lush, vibrant yard this summer.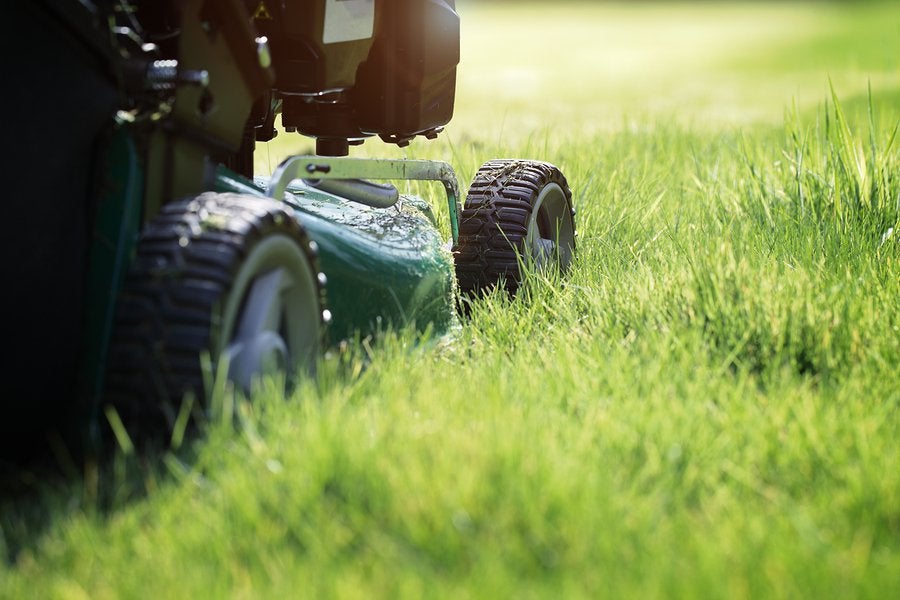 Aerate Your Lawn
A major issue that plagues lawns is soil compaction, particularly in high-traffic areas and lawns that host a lot of outdoor parties and activities. Soil compaction occurs when the soil becomes densely packed, making it difficult for the grass to take root. You should loosen your soil with an aerator rental from A Tool Shed.
Spread Grass Seed
Now that your soil is ready, you should reseed parts of the lawn that appear bare or brown. IF you're spreading grass seed over a large area, visit A Tool Shed Equipment Rental and pick up a broadcast spreader or walk-behind seeder.
Fertilize, Fertilize, Fertilize
The best way to encourage growth of healthy grass and discourage weeds is to fertilize with a slow-release nitrogen fertilizer. No more than one pound of nitrogen should be spread per 1,000 square feet. Check the packaging to see when and how much you should water your lawn after fertilizing.
No matter the condition of your lawn, you can find all the tools and equipment you need to revamp your yard at A Tool Shed Equipment Rentals in San Jose . In addition to our large selection of lawn and garden equipment rentals, we also have a huge inventory of new and used equipment for sale. Visit one of our six convenient locations or call us at (877) 890-2963 for help finding what you need.