About A Tool Shed Equipment Rentals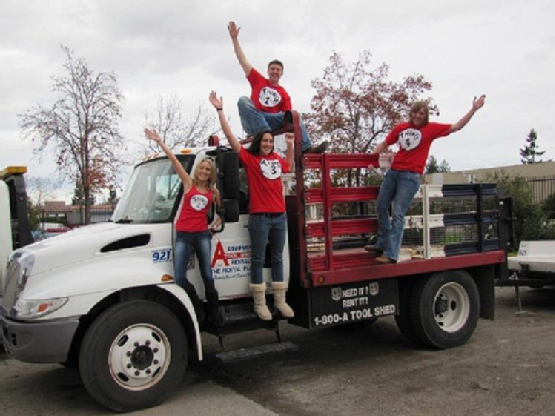 For more than 60 years, A Tool Shed has been the equipment rental solution for all our clients rental needs. Since we opened our doors in 1945, we have been offering our customers a large rental inventory with an extensive selection of rental tools from the novice do it yourselfer to the skilled contractor.
Since the beginning, we have grown and now have seven convenient equipment rental store locations in Northern California. Our company has been built and maintained based off of the requirements of our customers from day one and fast delivery services are just a phone call away!
What Makes Us Different?
Our mission is to provide our customers with a wide-range of rental inventory to help them get the job done quickly and easily. Our dedication to our customers and their projects combines many different features that we feel are critical when deciding on the best company to use. Those features include:
Having friendly, attentive, and well qualified equipment rental specialists that take pride in getting to know their customers and allowing them get to know us in return.
Getting personalized attention every step of the way to meet your specific needs.
Offering the best quality rental equipment at the best prices to accommodate any project or budget.
Helping our customers select the right equipment for the job.
Utilizing our equipment rental specialists to give advice, suggestions and referrals to make the projects easier.
Never charging sales tax on rentals!
No environmental or hookup fees.
Memberships in the following professional organizations:

American Rental Association
CLCA Member
Far West Equipment Dealers Association
California Rental Association
California Trucking Association
A Tool Shed believes that anyone can successfully complete a project with the proper tools and rental equipment at an affordable price, without sacrificing the quality of the equipment they use! Our primary goal is to ensure that our customers, above all, feel comfortable and always leave one of our locations satisfied knowing that they received the best service available.
For more information about A Tool Shed, please visit our website or give us a call at (831) 359-4769.
on Written Client Testimonial
A written note from an Eagle Scout!
C.B.
on Written Testimonial
"Dear A Tool Shed,
Thank you so much for supporting Harbor High's food forest project, the grow quad (www.growquad.org), in which we are designing and implementing an ecosystem of fruit trees on campus. Through this project we hope to inspire the next generation of environmental stewards and community activists in Santa Cruz. As a public school in which 60% of the students are on free lunch, the establishment of 20 fruit trees will be truly transformative. We wouldn't be able to do it without the irrigation system that your donation of a free trencher rental will enable us to implement. Thanks for supporting your local school and community!"
K.P.
on Written Letter
SVMS Students