Floor polishers are ideal for restoring a beautiful, shiny appearance to a floor. Since most people don't use floor polishers on a regular basis, these tools are typically rented instead. It can take a bit of practice to master the correct usage of this heavy, bulky equipment. Using the following tips will make it much easier for you to control the machine properly.
Clean the floor first.
Novices often assume that there's no need to clean the floor before using a floor polisher. But actually, you should use a vacuum cleaner with strong suction to remove all debris and particles from the floor. Doing this before you turn on the floor polisher will make controlling this tool easier. Floor polishers aren't able to remove debris from the floor, and so any particles left on it may cause scratches.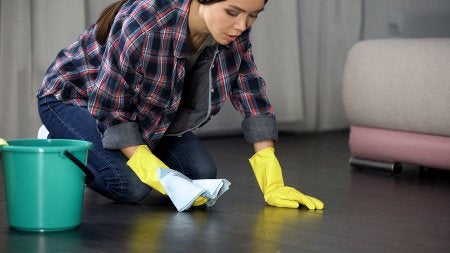 Get ready to use the polisher.
You should have a spray bottle with floor polish close at hand. If you have a work belt, you can attach it to that. Wear rugged work gloves for better handling of the equipment. Protect your feet by wearing closed-toed, sturdy shoes or work boots. Check the pad of the floor polisher. It should be clean, and there should be no bits missing. Adjust the handle to the proper height.
Start in the farthest corner.
You should start the machine at the farthest point away from the exit. Double-check that the power cord will reach all the way across the room, and then plug in the floor polisher. Apply floor polish directly to the pad or to the floor, depending on the instructions for the model you're using.
Overlap your rows.
Turn the floor polisher on and guide it in a row across the room. Each time you start a new row, overlap the previous row by about one-third to ensure even coverage. Avoid walking on the areas you've already polished.
You can rent top-of-the-line floor polishers at A Tool Shed . We also offer used tools for sale in San Jose. To inquire about our current inventory, give us a call at (800) 286-6574.