Few things make a major move easier than proper preparation and planning. Using the right rental equipment , such as hand trucks, will allow you to move items both large and small without injuring your back. Plus, having a rented hand truck or two available will help you complete the move much more quickly than if you tried to lift everything by yourself. Use these essential tips to help you get the most out of your rental equipment.
Selecting a Hand Truck
It's wiser to rent a sturdy, high-quality hand truck than it is to purchase a cheap, poorly made one. Before making your selection, consider the terrain. If you'll be moving heavy items up and down stairs, look for an electric stair-climbing dolly. The extra expense will be worth it. If you're executing the move by yourself, then one hand truck is all you'll need. Rent a few if you'll have some helping hands.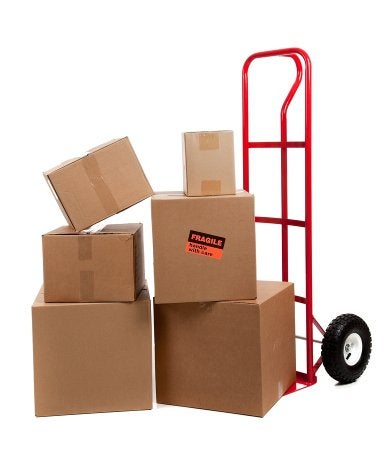 Moving Boxes
Stack boxes on the hand truck in a straight, balanced column. Place the heaviest box on the bottom and the lightest on the top. Don't try to stack too many boxes at once—you'll need a clear line of sight over the top of the stack.
Moving Heavy Appliances
Before loading a washer or dryer onto a hand truck, secure wires, cords, and hoses. Use heavy-duty tape to adhere these accessories to the body of the appliance. Some movers recommend loading appliances onto hand trucks from the rear, so that the front of the appliance is facing outward. This position may offer better weight distribution.
Moving Furniture
Make your furniture as light as possible before moving it by removing drawers or partially disassembling the furniture. Although your rented hand truck will do most of the work for you, a light load is always easier to deal with. Wrap wooden furniture with moving pads to protect the finish from the metal parts of the hand truck. Items that are more horizontal than they are vertical, such as desks, should be tipped over and stood on end.
You'll find everything you need to complete your household project at A Tool Shed Rentals . We have a wide assortment of equipment rentals in San Jose, including hand trucks, carts, and moving pads. Call us at 1 (800) 286-6574 or check out our inventory of rental tools online.