Installing a hardwood floor is one of the most effective ways to boost a home's value and aesthetic beauty. Take your time choosing the species of wood, finish, and stain you want, as you'll want to be satisfied with your choices for years to come. When you've picked the right floor for your home, get started on the following preparatory steps, including assembling the tools you'll need: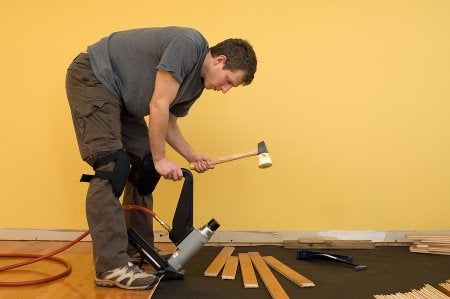 Rent the right tools.
Installing a hardwood floor requires a few tools that the average homeowner probably doesn't own. Instead of buying new tools to complete one project, consider renting tools. In addition to your materials, you'll need the following:
Tape measure
Pry bar
Sander
Long level
Pneumatic nailer
Circular saw
Shop vacuum
Drill with driver bits
Putty knife
Don't neglect to use appropriate safety gear, such as safety glasses, work gloves, a dust mask, and knee pads.
Measure the space accurately.
Use a tape measure to determine the length and width of the room. Multiply these two numbers to get the square footage. Experts recommend adding 10% to this number when you purchase the hardwood, as this gives you some leeway in case of mistakes.
Remove the baseboard and doors.
If applicable, remove the doors in the room. Next, remove the baseboard. Insert a putty knife behind the quarter-round molding, and exert outward pressure to gently loosen the baseboard. Continue doing this down its length, and then use the pry bar to finish the job.
Prepare the subfloor.
After you've removed the existing flooring, you'll need to prepare the subfloor for the new hardwood installation. Sand away the old adhesives, oil, and sealers, and vacuum the debris. Use the long level to ensure the subfloor is even, and screw down any loose boards. Then, roll out the underlayment and moisture barrier. Before you install the new flooring, remember that hardwood needs at least 72 hours to acclimate to the humidity and temperature inside your home before being installed.
At A Tool Shed Rentals , you'll find all the tools you need to create a beautiful, perfectly installed hardwood floor in your home. Save big bucks on your project by using our rental tools, or purchase our high-quality used tools for sale in San Jose. Get in touch at 1 (800) 286-6574.