How to Extend Your Outdoor Living Space
One of the benefits of living in Northern California is the mild climate that allows you to enjoy your home's outdoor space almost year-round. While people who live further south are sweating in July humidity, Northern Californians enjoy warm mild breezes. While people in the Midwest are shivering in February chills, Northern Californians enjoy dining al fresco with only light sweaters for warmth. To make the most of your outdoor space, find the following equipment for rent in San Jose :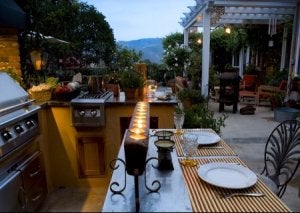 Barbecue Grills
To transform your everyday patio into a beautiful outdoor kitchen , a grill is essential. If you only host a barbecue once or twice a year, it is more cost effective to rent a grill rather than buy one as new equipment. Though many barbecue purists insist that charcoal provides a unique flavor, a propane grill is more convenient and will cook food that is just as delicious.
Tables and Chairs
When hosting large outdoor gatherings, it can be a challenge to seat everyone at a proper table. If you have a smaller space and do not wish to purchase a permanent patio dining set, you can rent tables and chairs for your parties. This ensures that all of your friends and family will have a comfortable place to sit and eat, and the day after your event you can simply return the table and chairs along with any other rental equipment.
Portable Generators
If you plan to have large speakers or lights at your outdoor event, you should consider renting a portable generator. If your property is large, this will be much more convenient than running dozens of yards of extension cords across your lawn to connect to your house's power grid. Also, you can avoid overloading your home grid by powering all your outdoor entertainment tools separately.
You can rent all the above items, and more, from A Tool Shed . Whether you need a propane grill or a jackhammer, contact us today to inquire about the new and used tools we have available. Visit our site or call us at (877) 890-2963 for more information.