Reasons to Choose A Tool Shed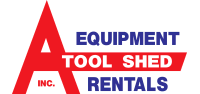 For your routine home maintenance or special renovations, you may be looking for equipment for rent in San Jose. With six locations across the city and surrounding areas, there is A Tool Shed near you that will have the items you need for all types of projects, from simple repairs to full-scale construction and contracting jobs. We have a wide inventory, ranging from tools for car repair to industrial-scale demolition equipment. Whether you're working on your engine or building a room addition on your home, you want a selection of different brands at affordable prices from a company you can trust. At A Tool Shed, we offer competitive rates with no sales tax or environmental fees, so you can keep your project within budget without compromising on rental equipment quality.
Our professional, friendly employees are always happy to help you figure out whether purchase or rental is best for you. Call us today at (877) 890-2963 to inquire about renting or purchasing the equipment you need for your project.