Spotlight on the Remote Control Trench Roller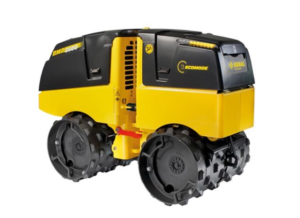 For compaction that is safer and more precise, consider adding a remote control trench roller to your list of equipment rentals. Remote control trench rollers have integrated safety features and the ability to deliver the maximum compaction results without loss of single in trench shoring. For large jobs, more than one trench roller can be used on the same site without the risk of interference. If you're considering renting this equipment for your job, here is what you need to know.  
Safe Remote Control Operation 
Using a trench roller remotely increases operator safety, but concerns sometimes exist about the safety of allowing a powerful tool like this to move without manual operation. Fortunately, remote control trenchers require line-of-site control, so if the control box is out of the line of site of the equipment, it will no longer work. This means that it will be under observation at all times. Likewise, if the person who is controlling the trench roller comes within three feet of receiving eyes with the box, it will stop automatically, reducing the risk of collisions. The trench roller also monitors machine functions and provides alerts if there are any flaws, such as low oil levels or high engine temperatures, for safer and more efficient operation.  
Superior Soil Compaction 
Thanks to a low center of gravity and the ability to use both high and low compaction force, the compaction results are superior to manual trench rollers. Some trench rollers also have integrated compaction control systems that carefully monitor the level of compaction and provide an alert when the maximum level has been reached. The drums can be set to work at different widths based on the need of the job.  
When you rent a remote control trench roller from A Tool Shed, you will need a midsized SUV, truck, or van if you have single access equipment trailer or at least a half-ton, full-sized vehicle for a dual axel trailer for safe towing. To find out more about renting equipment in San Jose from one of our seven locations, call (800) 286-6574.