Getting the Most from Your New Smith Concrete Planer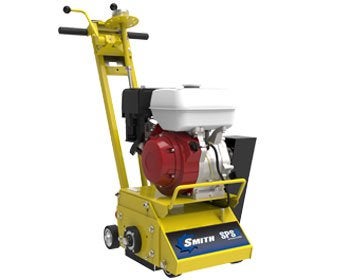 Smith Manufacturing is known for setting the gold standard in surface preparation equipment, including concrete scarifying and coating removal. If you've just purchased a new Smith concrete planer , you can look forward to many years of rugged dependability, thanks in part to its Honda engine. This all-purpose planer works well on both concrete and asphalt. Always read the owner's manual, including the safety warnings, before operating new power equipment or equipment rentals.
Use the hand wheel and the cam lever to adjust the height of the cutter drum. Be careful to set the correct depth of the cut so that the cutters do not extend past the depth of the material to be removed. The drum assembly should not come into contact with the substrate. Otherwise, it's possible that the shafts, drums, and other components will sustain premature wear and tear.
Creating Surface Patterns
A little practice with your new concrete planer is all that's needed to figure out how to make desired surface patterns when removing substrate . Experiment with dialing the hand wheel up or down. Additionally, try positioning the planer in multiple directions. After a few hours, you'll be able to create any pattern you wish, and remove substrate with ease.
Follow the correct order of operations to shut off the machine when you're ready to take a break from work. First, use the cam lever or hand wheel to lift the drum above the substrate. Then, stop the machine at the engine. Finally, close the fuel cock. This will close the fuel supply.
Before and after each time you use your concrete planer, you should remove and inspect the drum assembly. Look specifically for signs of wear and tear, such as weld separation and hole elongation. After every 40 hours of use, you'll need to replace the cutter shafts and drum bushings. Order another cutter drum if you notice elongation of the drum's center holes.
Smith Manufacturing's SPS 8" concrete planer is just one of the many tools and equipment you'll find at A Tool Shed . We're well-known among area homeowners and contractors for our exceptional rates on power equipment rentals, but we also offer new and used equipment for sale in San Jose. Call (800) 286-6574.