Unlike moving dollies, tow dollies are only used for moving vehicles. It's connected to the back of the towing vehicle, and it only lifts up the front wheels of the vehicle being towed. When you visit the rental equipment store, a staff member will give you all the information you need to use a tow dolly safely and in accordance with the store's policies.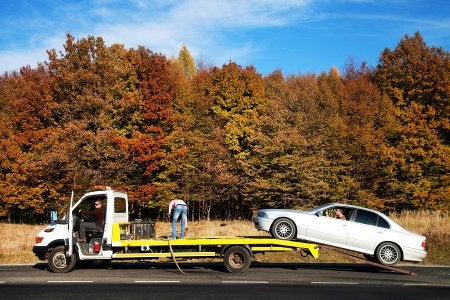 For example, the vehicle you're towing and the vehicle you're driving will need to meet certain weight specifications. Generally, the towing vehicle must weigh at least 1,670 pounds more than the towed vehicle. The vehicle must also have a two-inch receiver hitch rated for at least 7,000 pounds. In addition, you must exercise extreme caution while driving and parking. You will be unable to back up while the tow dolly is connected, as this could damage both vehicles.
You can find tow dollies available for rent at A Tool Shed—with no added environmental fees or sales tax! Call our team at (800) 286-6574 to inquire about renting tools for your car in San Jose.