A power auger makes it easier to dig postholes, which makes it perfect for fence installations and other projects in which digging multiple holes is necessary. If you decide to add a power auger to your list of rental equipment for your project, here is what you need to know about getting the most out of it.
Get Permission
Before any project that requires digging, call your local utility companies to ensure that you won't be digging in any areas that could jeopardize power, gas, or cable lines. Typically, these companies will come out and mark any lines in the area of your project so that you can be sure to avoid them. You may also need a building permit, depending on your local ordinances and homeowners association rules. In most cases, permits are required when installing fencing.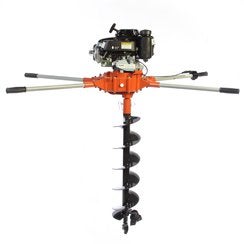 Dig in Pre-Marked Holes
Before you start digging, mark all of the places where you will be creating holes, and decide the depth you want to reach. With a partner, place the auger where you want to dig and switch on the engine. The auger's handles will move counterclockwise, and you will need to counterbalance that by putting pressure in the opposite direction. It is important not to dig too deep and to clear dirt from auger as you go. You can either pull the auger up, turn it off, and empty the dirt into a pile by tilting the machine on its side, or you can pull the auger partly up while it is on to let the dirt fly out.
Clear the Holes
While you are using the power auger, stop frequently to clear out the holes. You may prefer to use a shovel to dig out excess dirt that is sliding down, so that you can stay in control of how much dirt is removed. Clearing the holes regularly will prevent the auger from becoming overloaded and too heavy to handle.
A Tool Shed has all of the equipment rentals in San Jose you need to get your DIY projects done. Whether you have a small home improvement project or are undertaking a large building job, contact us at (800) 286-6574 to arrange for your tool rental.