Here's What You'll Need to Build a Treehouse
If your children love the outdoors, they'll be blown away when they see a finished treehouse in their very own backyard. The finished product has to be as safe, sturdy, and secure as possible, and you'll need the right tools and equipment to build the platform, walls, and roof of the house. Read ahead and see what you'll need to build a treehouse.
Platform
You're going to be working with a whole lot of wood when you make your treehouse, so tools like saws and drills will be a big part of your arsenal. You'll need the right drill bit to pre-drill holes for the coach screws. Before anything is permanently connected, use safety ropes to hang the planks in place. Even after the planks are screwed into place, don't put any weight on the platform until you've added support beams. Unless your tree is perfectly even, you'll cut your support beams at different lengths.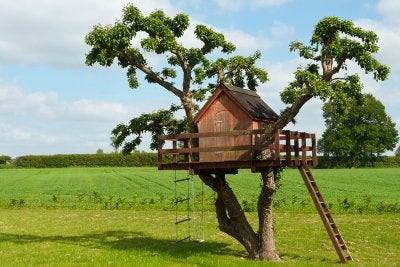 Walls
You could build your walls up on top of the existing platform, but it's usually easier to put them together on the ground. Then you can connect each finished wall and begin to piece the treehouse together. In this case you'll also need safety ropes to support the weight of each wall. Like the platform, walls will require beams and screws. In contrast to the floor of the treehouse, the walls require the use of a power drill.
Roof
Double check the platform and the walls of your treehouse before moving onto the roof. The construction of your roof depends on its design, and attention to detail is just as important. The angles might be a little bit different here, so use precision tools and ask for a second opinion while putting the roof together.
Do you have all the San Jose tool rentals you need to build a treehouse for your kids? The equipment experts at A Tool Shed can help you find what you need. Whatever kind of tools you need for your project, see what we can do by calling 1 (800) 286-6574.