A Look at Genie Scissor Lifts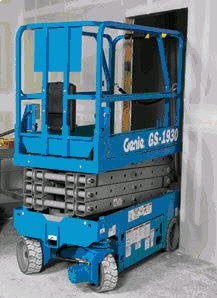 Genie lifts have been around since 1966. As of 2015, the company is an industry leader in the manufacturing of aerial work platforms and material lifts, offering products that are made to be highly reliable, safe, and easy to use. Genie has a vast catalog of equipment that includes their scissor lift lineup.
Genie scissor lifts are extremely helpful in construction applications, giving workers a large, level, and stable work platform to perform installation and maintenance work in high places. These lifts can be used indoors and outdoors, and they're perfect in narrow spaces. Unlike other kinds of aerial work platforms, such as cherry pickers—also known as boom lifts—that can be articulated and have a range of motion, Genie scissor lifts can only move vertically up and down.
Do you need a Genie scissor lift or another piece of rental equipment for your next project? If so, contact A Tool Shed Equipment Rental at (877) 890-2963. We offer the best construction equipment and power tools for rent in San Jose and the Greater Bay Area. Whatever you need to get the job done, you can find it at A Tool Shed Equipment Rental.
Image for reference only. Actual item may look different.