A Tool Shed: Celebrating 70 Years in Business!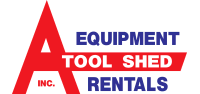 A Tool Shed Equipment Rentals has been San Jose's trusted tool and equipment rental provider since 1945. We are driven by the same values today that helped us get off the ground and become the Bay Area's equipment rental solution 70 years ago. Between our large rental inventory and wide selection of rental tools, not to mention our fast delivery services and affordable prices, it's no wonder we've been San Jose's equipment rental specialists for seven decades.
From small hand tools and gardening equipment to trailers, excavators, and earthmoving equipment, you can find all the tools and equipment you're looking for at A Tool Shed Equipment Rentals. We have six convenient locations to serve you, and our courteous and knowledgeable equipment rental specialists can help you find exactly what you need. Call us toll-free at (877) 890-2963 to get started.