A Tool Shed Equipment Rentals: Helping build a community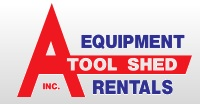 With all the tools and equipment to make your weekend or major project easier, a visit to A Tool Shed Equipment Rentals is the first step towards getting the job done right —it's a locally-owned business that prides itself on its service to both its customers and community.
          "We really do pride ourselves on taking care of our customers," said Brad Robinson, general manager of A Tool Shed Equipment Rentals. "We get the best products we can find and really strive to help our customers meet their goals. When people need it now, we enjoy that challenge and like to get it now."
          It could be a dump truck, a pressure washer, concrete grinder or trencher. Most commonly, it's a forklift or possibly a generator during a winter storm. Hopefully, it's not an ozone generator to remove the smell from a house that's been flooded or had a kitchen fire, but if you need one, Robinson will have it for you. He has been with the company for 28 years after starting as a yard person.
          "I love the people I work with. It really is a big family here; most of the employees have been here a long time," he said. "And I enjoy the industry. It always creates a new challenge, having to grow with technology and stay with current trends. There is always something to do, somebody to help."
          Robert Pedersen is the third-generation owner, president and CEO of the family business, started in 1945 in Cupertino. He said the company's motto "to create an exceptional customer experience," is the key to its success. That is why A Tool Shed keeps training videos readily available and employees watch them so they can answer questions; the motto is also the reason behind the fast delivery service and the decision to not charge sales tax, environmental fees or hookup fees.
          "Everything we do is based on that motto," Pedersen said.
           Pedersen opened the Santa Cruz location, now located at 3700 Soquel Ave., 17 years ago, seizing upon an opportunity he saw when United Rentals moved in.
          "United Rentals had bought out the smaller business here so we decided to come in and fill that niche — we concentrate more on the small contractors and the homeowners, rather than that big contract job — and we've been growing ever since," Pedersen said.
           A Tool Shed also has stores in Watsonville, Hollister, Morgan Hill, Campbell and Santa Clara. In 2010 Pedersen decided to move his corporate office from Campbell to Santa Cruz as well. Why? "The atmosphere, honestly," said Pedersen, who lives on the summit. "It's a more relaxed community; the people are easy going. I enjoy coming to work on this side of the hill."
          A Tool Shed is also a big supporter of the community. The business sponsors a range of events — from the Wharf to Wharf Race to the Santa Cruz County Fair. Those light towers that lit up Pacific Avenue during Halloween came from A Tool Shed.
          "You see our stuff all over the fairgrounds. I love the fair," said Pedersen, recalling his days in 4-H. "And we donate equipment for all Eagle Scout projects."
           So, if you need a pressure washer to paint that house visit http://www.atoolshed.com/