Yard Maintenance Tips for the Spring Season
Springtime weather and temperatures can be unpredictable, but one constant you'll find year after year is that spring is cleanup season. Tool and equipment rentals peak in March, April, and May, and with good reason: Ensuring a beautiful lawn and garden until winter begins with spring yard maintenance. You can use these tips to get started.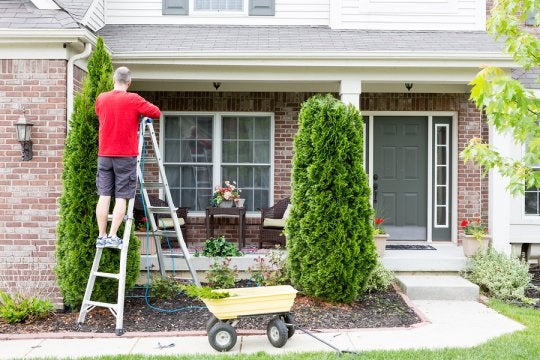 Pruning Trees and Shrubs
After a long, harsh, cold season, your landscaping is bound to have dead material in need of trimming. With pruners in hand, walk your property and keep an eye out for signs of frost damage on your trees and shrubs. For the best results and to stimulate new spring growth, trim back dead branches until you reach live stems. When grooming your hedges, use hand pruners rather than electric shears to cut the branches in a more natural way to allow air and sunlight to reach the shrub's interior.
Perennial Maintenance
To keep your perennial grasses and flowering plants in good condition, be sure to prune them back in the spring to allow new growth. Reduce your ornamental grasses to about 2-3 inches, and your flowering perennials to a height of 4-5 inches for optimal results. Once the soil has thawed, you can start thinning out crowded perennials by digging them up, dividing them, and leaving about three stems per clump.
Practicing Composting
There's no other time that you're likely to have as much yard waste as you will in the spring. Composting is an excellent way to dispose of your leaves, grass, and branches, and you'll also get a nutrient-rich soil additive for your efforts. Collect your yard waste into a pile, leaving out any weeds, and corral it in using a few sections of wire fence. For faster decomposition, chip branches and shred leaves into pieces no larger than ½".
For a broad range of high-quality tool rentals and equipment for rent in San Jose, contact A Tool Shed at 1-800-286-6574. We have seven locations throughout Northern California to provide you with the tools you need for your next weekend project.