Getting to Know A Tool Shed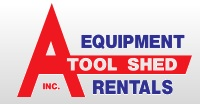 For nearly seven decades, A Tool Shed has been providing customers in the Bay Area with quality tool rental services and excellent savings. We offer a wide selection of rental tools that will assist you in completing any job, from repairing your kitchen sink to installing a decorative fence around your yard. No matter what home improvement project you have planned, our team of equipment rental specialists can help you find the proper equipment and tools for the job and advise you on the best way to utilize those items to achieve your goal. Since customer service is something that we place a lot of emphasis on, we always guarantee that your equipment is conveniently delivered to your home or work site when you need it.
A Tool Shed is recognized by a number of associations around the country, including the American Rental Association and the Far West Equipment Dealers Association. We like to think that our accolades and our history of always satisfying the customer are two of the main reasons why we've been able to expand our venture to include six Northern California stores. To learn more about our tool rental and equipment rental services in the Bay Area and Northern California, call A Tool Shed at (831) 359-4769.