Tool Rentals: Table Saw Safety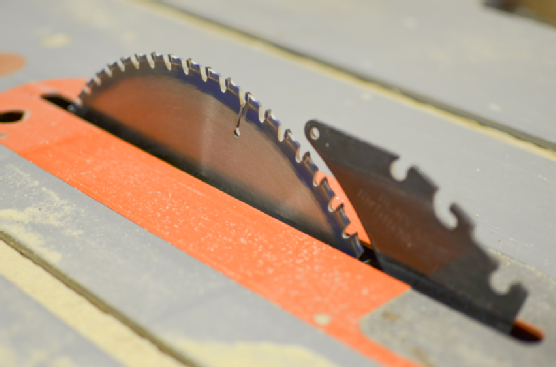 While carpentry is a satisfying and useful hobby, it can be risky if you don't adhere to safety standards and use precaution while using your carpentry tools . This is especially true with table saws. Table saws are incredibly handy, but you can seriously injure yourself if you aren't careful. Here's what you need to know about table saw safety:
Place an outfeed table behind the saw as an added safety measure. As you feed your material through the table saw, the material will land on the outfeed table, which will prevent you from reaching behind the saw to grab your material before it falls to the floor. Table saw accidents commonly occur when the user puts his or her hand behind the saw in order to keep the material from falling. This can result in a very serious injury.
Be careful where you stand while using the saw. There always a risk of the saw kicking the material back at you, so be sure to stand to the side of the saw, not directly in front of it.
Use push sticks and push pads when you operate your table saw. If you're planning to cut material that is less than three inches in width or length, use a push stick in order to propel the material through the saw.
Wear proper clothing and safety accessories. Wear either a short-sleeved shirt or make sure your sleeves are rolled up tightly—you want to avoid getting your sleeve caught in the table saw. Do not wear jewelry while operating the table saw. Additionally, wear safety goggles and ear protectors while you're running the table saw in order to protect your sight and hearing.
Always keep the safety guard in place on your table saw. This is perhaps the most important table saw safety precaution.
A Tool Shed Rentals has six convenient locations for rental tools in San Jose, Campbell, Watsonville, Morgan Hill, Hollister, Santa Clara, and Santa Cruz, so come on in and find the perfect equipment rentals you need for your carpentry project. We're also available to answer any of your questions at (831) 359-4769.