Fix Up Your Home With Half Off Equipment Rental from A Tool Shed!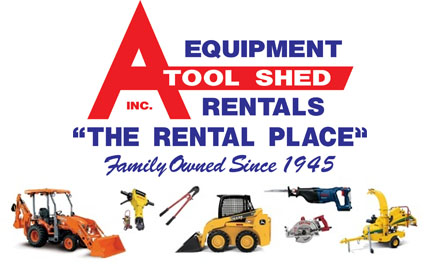 Summer is here! Get your yard and lawn ready with today's deal at A Tool Shed Equipment Rentals — $40 Worth of Equipment Rentals for only $20! Available at all 6 locations. (Campbell, Watsonville, Morgan Hill, Hollister, Santa Clara, and Santa Cruz).
With six locations in Northern California, A Tool Shed Rentals should be your first stop for all your equipment rental needs! We have the tools and equipment to make your weekend or major project easier! When you need rental tools to get the job done, "Discover Service" at A Tool Shed!
A Tool Shed Rentals Inc. is your equipment rental solution for all your rental needs.  We have the rental inventory to help you get your job done quickly and easily.  You'll appreciate our large rental inventory and wide selections of rental tools available for the novice do it yourselfer to the experienced contractor.  Our equipment fleet has been built by the requirements of our customers from over 60 years of experience.  Rental equipment is our specialty with fast delivery services just a phone call away.  Our equipment rental specialists are courteous and knowledgeable and will help you select the right equipment for your rental needs.  We deliver small or large equipment and make it our first priority to get you the equipment when you need it.
Working on something new?  Give us a call, we will be happy to give advice, suggestions and referrals to make your project easier.  We maintain a large manufacturer training video stock that will help with the fine points of those new or seemingly impossible projects.  Come on in take a few minutes and let us show you a video on the piece of equipment you will be renting and we're sure you will be more comfortable with your decision to choose A Tool Shed as your equipment rental partner.
NO SALES TAX!
Did we mention NO SALES TAX?!  A Tool Shed Inc. never charges sales tax on rentals.  Environmental Fees?  We don't charge for those either.  Hook Up Fees?  Good question, not those either.  Take a good look at our pricing you'll quickly discover our great prices and we don't have all those extra fees that will easily send your equipment rental total up 10 to 20 percent with our competition.  We're sure that will make you happy.
A Tool Shed Rentals Inc. will help with all your equipment rental needs for any occasion and we are just a call away!
We Deliver 7 Days a Week
STORE HOURS:
Mon-Sat: 7:00 am – 5:30 pm
Sun: 8:00 am – 4:00 pm 
To view the entire offer, visit Get My Perks by clicking HERE !
OR
You can click HERE to purchase this great offer now!